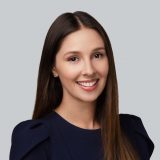 Olivia Nash
Associate, Wealth Advisor
---
Olivia Nash is an Associate & Wealth Advisor at Element Pointe Family Office. Olivia is responsible for delivering the firm's wealth management, portfolio management, and family office advisory services to high net worth clients. As an Associate & Wealth Advisor, Olivia also engages with clients in crafting and implementing customized investment and financial planning strategies to help them realize their long-term financial goals.
Prior to joining Element Pointe, Olivia spent three years in corporate marketing at Interval International, a subsidiary of Marriott Vacations Worldwide, where her responsibilities included managing B2B marketing campaigns, corporate events, and business development initiatives.
Olivia holds an MBA from the University of Florida and Bachelor of Arts from Florida State University.
A South Florida native, Olivia currently resides in Miami, Florida.