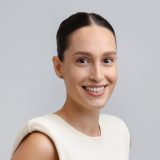 Suzana Cacaj
Senior Associate of Operations and Marketing
---
Suzana Cacaj is Senior Associate of Operations and Marketing at Element Pointe Family Office. Suzana is responsible for working with the executive team in managing all matters related to business operations, office management, finance, and resource management. Additionally, Suzana is responsible for developing and implementing firm-wide marketing strategies across various channels, including print and digital media, as well as planning and coordinating events, public relations, and community involvement initiatives.
Prior to her current role, Suzana was Executive Assistant to the CEO & President of Element Element Pointe Family Office.
Suzana received her Bachelor of Arts in Applied Psychology and Human Relations from Pace University in New York City. Originally from New York, Suzana currently resides in Miami, Florida.