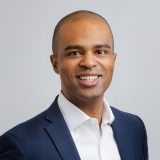 Kristopher Martin, CFP®
Vice President, Wealth Advisor
---
Kristopher K. Martin, CFP® is a Vice President and Wealth Advisor at Element Pointe Family Office. Kristopher joined Element Pointe in 2017 and is responsible for delivering the firm's wealth management, portfolio management, and family office advisory services to high net worth clients in the U.S. As a Wealth Advisor, Kristopher engages with clients in crafting and implementing customized investment and wealth management strategies to help them realize their long-term financial goals. Additionally, Kristopher works closely with the executive team in the implementation of the firm's business development and growth strategy. Kristopher is a CERTIFIED FINANCIAL PLANNER™ professional.
Prior to joining Element Pointe, Kristopher spent five years at global concert promoter Live Nation, where he was responsible for working with many of the largest global talent agencies in booking events and negotiating talent contracts, as well as managing revenue forecasts, ticket pricing, and pro forma financials for large scale events, concerts, and festivals.
Kristopher received his Bachelor of Business Administration in Finance with a minor in Music Business from the University of Miami.
Passionate about music, Kristopher plays multiple instruments, including percussion, piano, saxophone, and guitar. A South Florida native, Kristopher currently resides in Miami with his wife, Jordan.