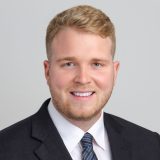 Stephen J. O'Connell, CFA, CAIA
Vice President, Investment Management
---
Stephen J. O'Connell, CFA, CAIA is a Vice President on the Investment Management team at Element Pointe Family Office. Stephen joined Element Pointe in 2016. He reports directly to the Chief Investment Officer and assists the investment team with overall investment strategy and portfolio implementation. Stephen is responsible for performing investment research and due diligence, as well as, leading efforts in the preparation of investment reports and analytics. Stephen works closely with the executive team in the development and maintenance of the underlying portfolio management infrastructure, as well as, leveraging the firm's technology to help craft and implement customized investment and wealth management strategies for the firm's clients.
Stephen received his Bachelors in Business Administration in Finance with a minor in Mathematics from the University of Miami. He is a CFA and CAIA Charterholder, and a member of the CFA Society of Miami.
Originally from Armonk, NY; Stephen currently resides in Miami, Florida.